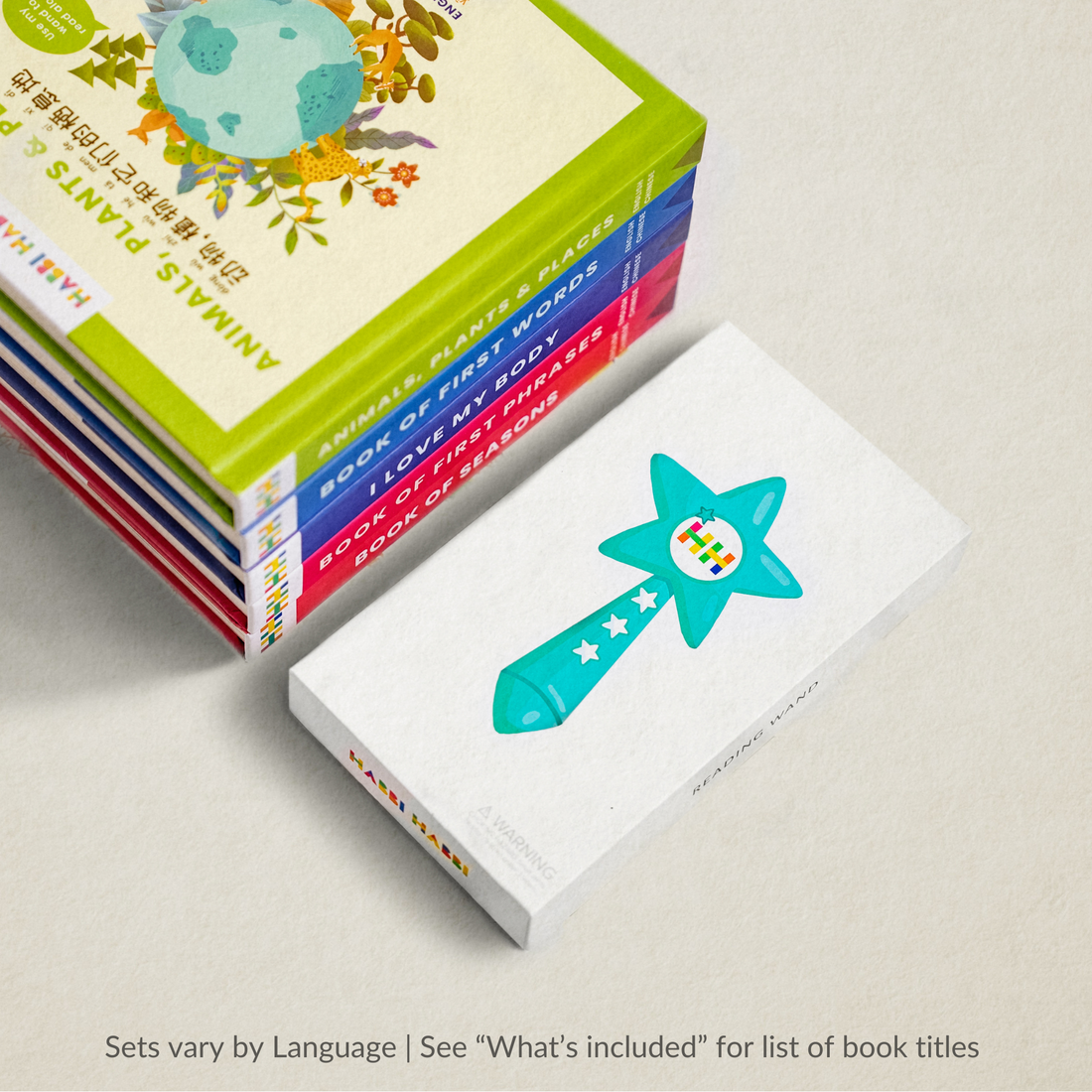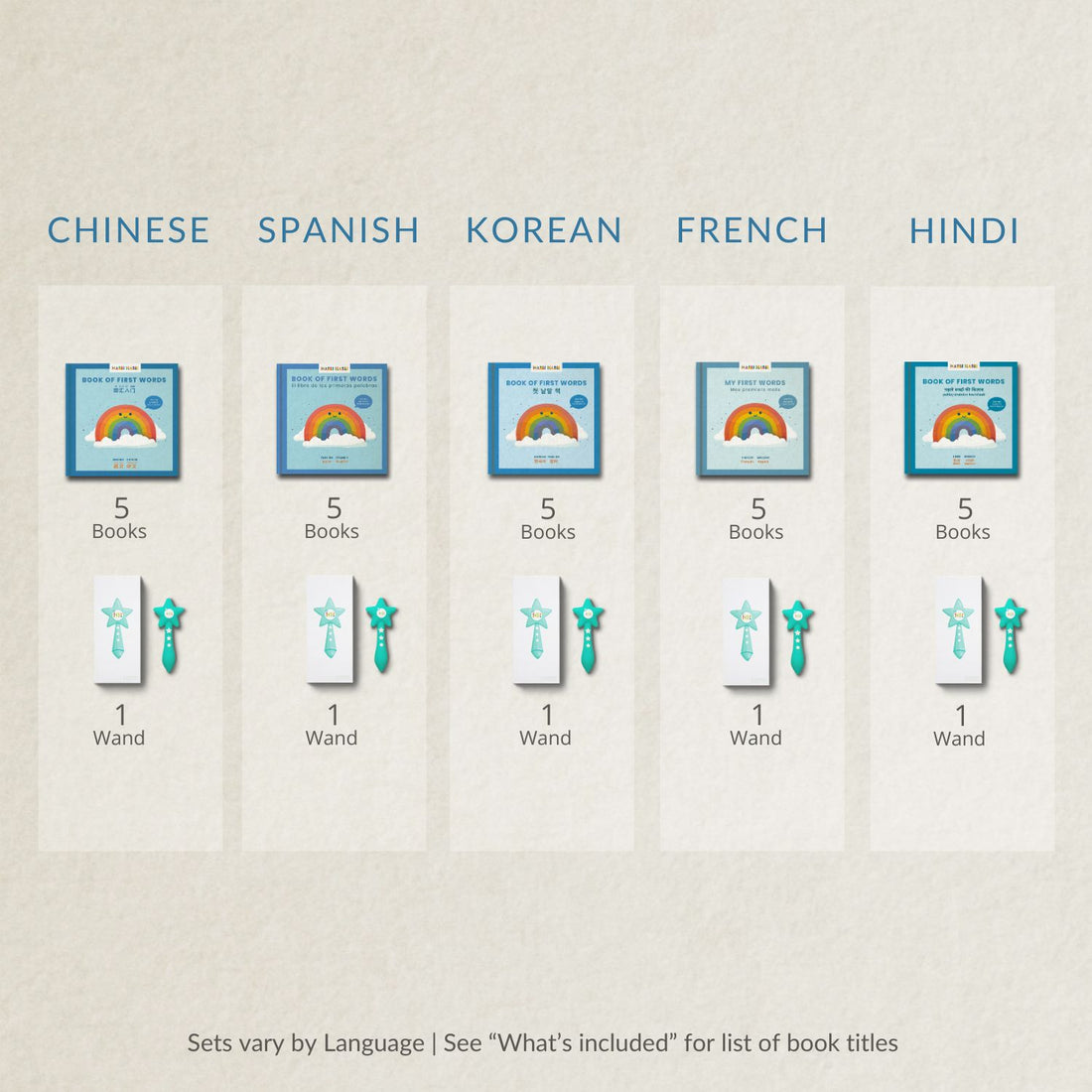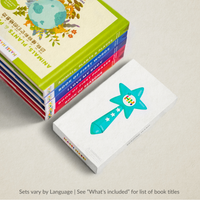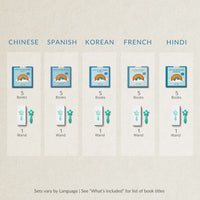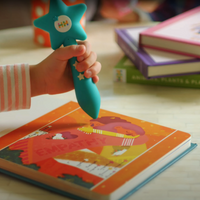 Starter Set (Wand + 5 Books)
$120.00
Bundle Price

• Save
Please note: Books included in this set vary by language. Refer to "What's Included" below for more detail. 
Our Starter Set is the perfect entry into Habbi Habbi's world of bilingual learning, offering a mix of Word, Phrase and Sentence books from our collection.  Every inch of our books is tappable, bringing each page to life with sound and music. Language learning has never been so playful and fun! Read honest, unsolicited reviews here.  
Chinese is Mandarin, Simplified with pinyin; Hindi includes script and phonetic romanization
1 Reading Wand
5 Bilingual books (hardcover board books)

CHINESE books:
Book of First Words [Word book]
Foodie Friends [Word book]
Book of First Phrases [Phrase book]
Book of Emotions [Phrase book]
I Am Kind [Sentence book]

FRENCH books:
Book of First Words [Word book]
Animals, Plants & Places [Word book]
Book of First Phrases [Phrase book]
I Love My Body [Phrase book]
I Am Kind [Sentence book]

SPANISH, KOREAN and HINDI books:
Book of First Words [Word book]
Animals, Plants & Places [Word book]
Book of First Phrases [Phrase book]
I Love My Body [Phrase book]
Book of Seasons [Sentence book]
Shipping dimensions: 10x8x5 inches
Shipping weight: 6.25 pounds
This set contains small (8x8 inch) format books.
FREE Ground Shipping on all US orders
Obsessed with these
We are moving to France from the US in a few months and our four year old has been loving these! She sits quietly with her headphones and does her French studies while my husband and I do our virtual French lessons. The books are well made and so cute!
Amazing resources for teaching a new language
I purchased these for our public library to create resource kits. We saw a need in our communities for more bilingual resources and Habbi Habbi was an amazing find. I can't wait to make these available for patrons to borrow. The quality of the books, flash cards, and wands is top tier. The wand is easy to use and works on the flash cards, too.
Starting slow
I bought a Spanish starter set for my currently bilingual (Chinese/English) toddler because her preschool is teaching Spanish to the kids. She likes playing with it on our car rides even though her attention span on the book is still only about 5 minutes each time, she seems to be very interested during that time. I liked the content so much I bought a Chinese set for my husband for him to learn Chinese lol. But I think the books in the Chinese set are way more practical for beginners, so I'm not sure why the other languages don't have the same set. I can see us continuing to expand the library.
Good products, have some suggestions…
I found the wand is not easy for one-year old to hold, it actually is easier for him to hold on the other end (the star side) and then touch the book. It would be wonderful if both sides of the wand would work. Also adding a male voice might be good too.
I would also suggest some common first words: eat, drink, milk, spoon, bowl, chair, sit, stand, come, bye, balls, balloon. And common animals: dog, cat, squirrel, bird, fish. And nose, mouth, ears, eyes, mouth, hair…
Thank you David for your kind feedback! We will explore what are possible options on the Wand / tapping from a hardware perspective, but we appreciate the input! On the other common vocab, you can find almost all the words you noted in our Words & Phrases Set (books such as I Love My Body, In My Home, Animals, Plants, & Places). Just a kind fyi in case helpful!
Amazing!
We are so in love! I also didn't realize the wand had a jack for headphones and super game changer! Now I can have all 3 kids do different books at the same time or in the car. Planning to get two more wands! We have tried a lot of Spanish options for learning and this has been perfect. Also going to get other languages and more books in Spanish
Easy to use
So simple... just tap!
Simply turn on your wand and tap - anywhere, on any page, in any of our books - to hear words, phrases and sounds.
So much content
60-300 clips per book
Every inch is tappable - not just text! Tap images and white space for hidden audio - from vocabulary to practical phrases to musical tunes.
Free resources
Printables for every title
Our Resources page supports your language learning journey with practical tips from families and educators and a wide selection of free printable activities.