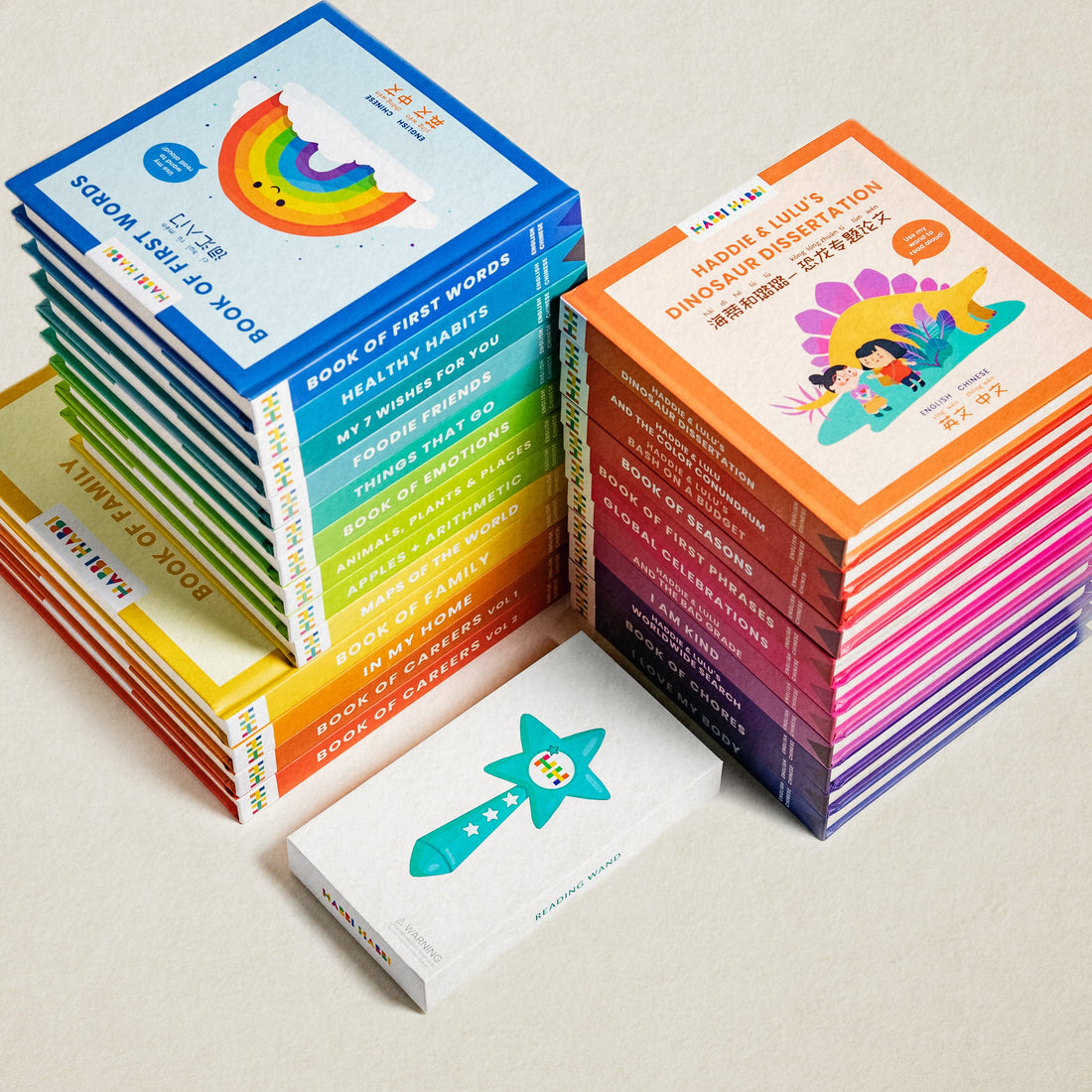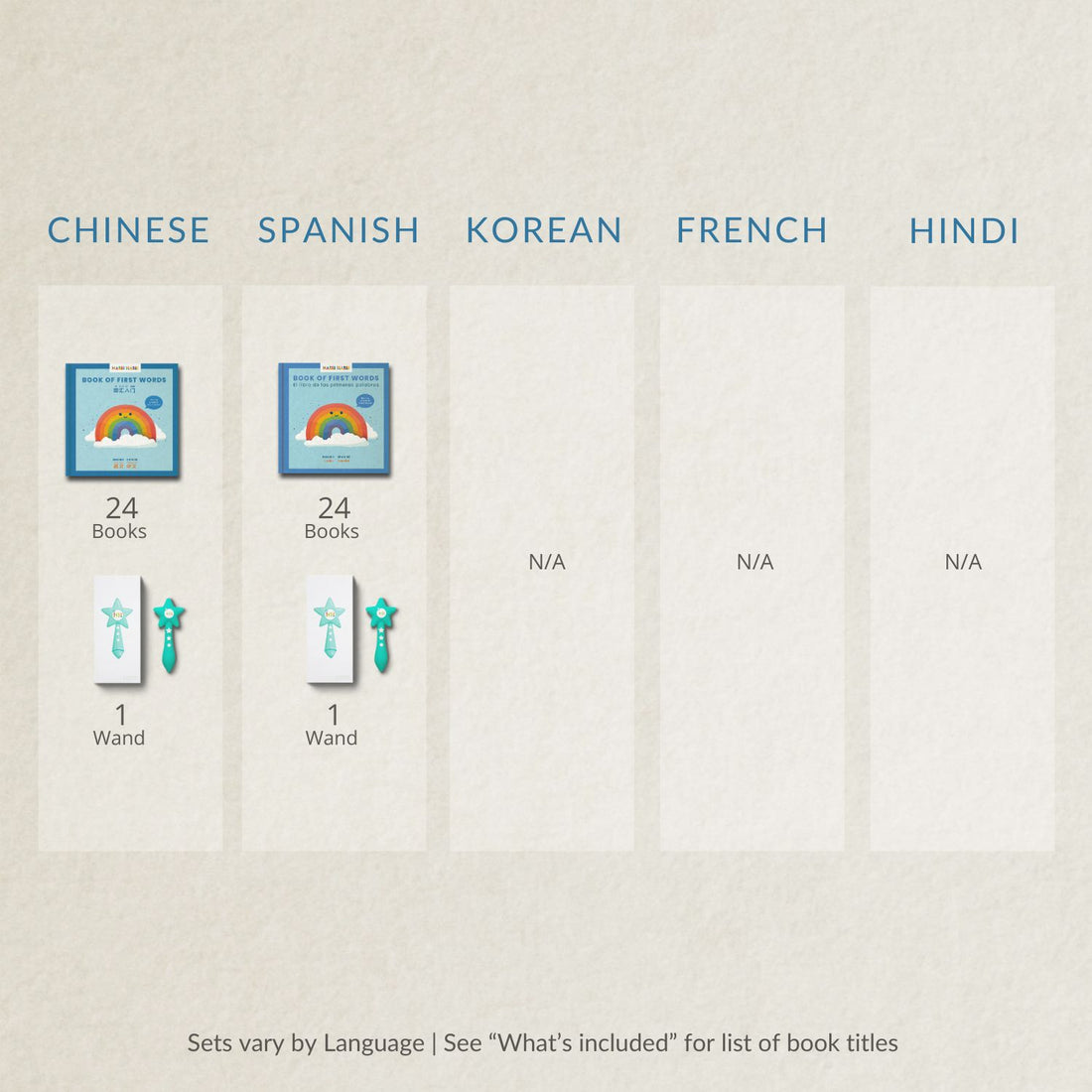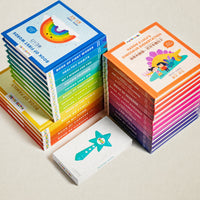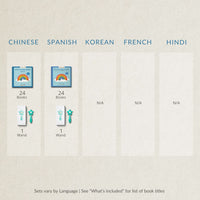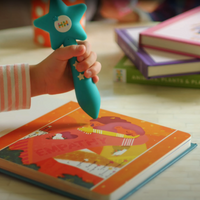 Collector Books Set (Wand + 24 Books)
$450.00
Bundle Price

• Save
Please check your language choice before checkout.
Bring home the *complete* Habbi Habbi book library with our Collector Books Set! This set features all 24 Habbi Habbi books plus our magical Reading Wand. Every inch of our books is tappable, bringing each page to life with sound and music. Language learning has never been so playful and fun. Read honest, unsolicited reviews here. 
Chinese is Mandarin, Simplified with pinyin.
1 Reading Wand
24 Bilingual books (hardcover board books) - all books in our collection
Chinese and Spanish sets have the same books

Maps of the World [Word book]
Book of First Words [Word book]
Foodie Friends [Word book]
Thing That Go [Word book]
In My Home [Word book]
Animals, Plants & Places [Word book]

Book of First Phrases [Phrase book]
Book of Emotions [Phrase book]
Book of Chores [Phrase book]
I Love My Body [Phrase book]
Apples + Arithmetic [Phrase book]

Book of Seasons [Sentence book]
Book of Careers, vol 1 (Moms) [Sentence book]
Book of Careers, vol 2 (Dads) [Sentence book]
Book of Family [Sentence Book]
I Am Kind [Sentence book]
Healthy Habits [Sentence book]
Global Celebrations [Sentence book]
My Seven Wishes for You [Sentence book]
Shipping dimensions: 12x12x16 inches
Shipping weight: 31 pounds
This set contains both small (8x8 inch) and large (10x10 inch) format books.
FREE Ground Shipping on all US orders
Kids like it not exactly as good as it could be.
The music it plays when you got white part of page is very annoying an my kid seems to want to just play the music. Also, wish there was a way it would only say things in the foreign language so kids were focused on that.
Love it!
Love the little "Easter eggs" in the books and the content. Looking forward more books coming out.
let's talk about your wand
My two plus years old wanted to use the wand on all of her books now and was
very sad the wand will not work!
We have a new product idea for you, develop a wand which will capture the word image and translate back, With today's AI, it could be done.
Great but one flaw
The books are absolutely worth the price and investment. They are truly fantastic and my kid loves them. High quality. Diverse content. The one big flaw for me is the wand. The volume controls and on/off button are exactly where little hands will hold the wand. Thus, these buttons are always inadvertently pressed and also intentionally pressed because well, little kids like to press buttons. This means I am CONSTANTLY adjusting the volume and to be honest it's very annoying because it actually can get extremely loud. For me the ideal wand should have a volume lock mechanism.
Easy to use
So simple... just tap!
Simply turn on your wand and tap - anywhere, on any page, in any of our books - to hear words, phrases and sounds.
So much content
60-300 clips per book
Every inch is tappable - not just text! Tap images and white space for hidden audio - from vocabulary to practical phrases to musical tunes.
Free resources
Printables for every title
Our Resources page supports your language learning journey with practical tips from families and educators and a wide selection of free printable activities.