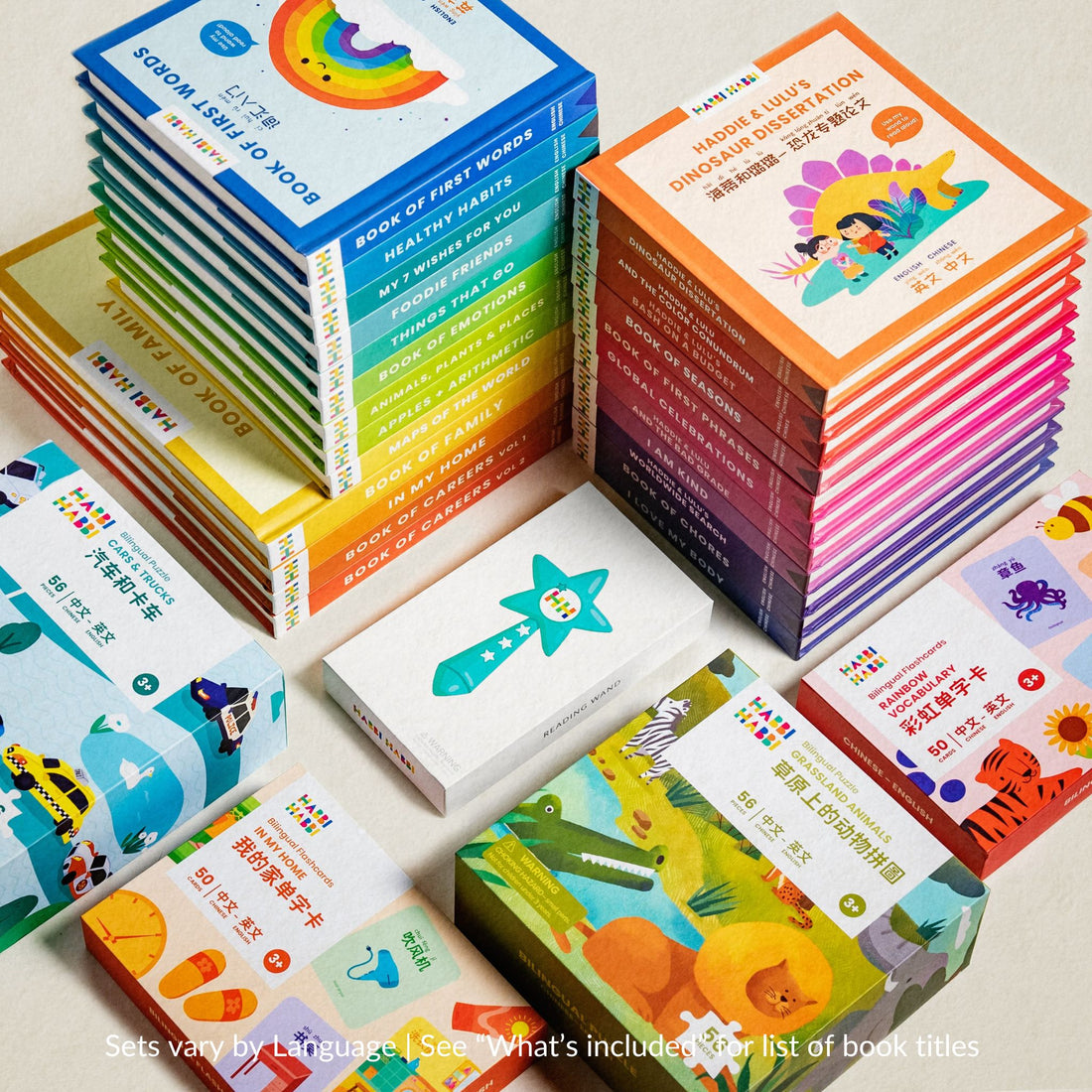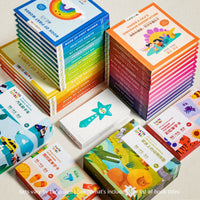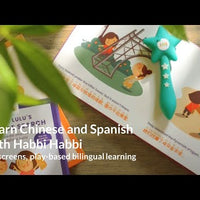 The Everything Set (Wand + All Books, Puzzles, Flashcards)
$530.00
Bundle Price

• Save
Please note: Sets vary by language, please refer to "What's Included" below for details.  For French and Hindi, explore our Words & Phrases Set. Any orders with our NEW Korean Books will ship end of Sept.
For those who want it all, we created a set with one of every item we offer in your language of choice!  This set combines all books, puzzles and flashcards available in your language, plus one Reading Wand that brings each of them to life with audio!  Language learning has never been so playful and fun. Read honest, unsolicited reviews here.  

Chinese is Mandarin, Simplified with pinyin
CHINESE and SPANISH sets:
1 Reading Wand
2 Puzzles (Animals, Cars)
2 Flashcard Sets (Rainbow, Home)
24 Bilingual books (hardcover board books)

Maps of the World [Word book]
Book of First Words [Word book]
Foodie Friends [Word book]
Thing That Go [Word book]
In My Home [Word book]
Animals, Plants & Places [Word book]

Book of First Phrases [Phrase book]
Book of Emotions [Phrase book]
Book of Chores [Phrase book]
I Love My Body [Phrase book]
Apples + Arithmetic [Phrase book]

Book of Seasons [Sentence book]
Book of Careers, vol 1 (Moms) [Sentence book]
Book of Careers, vol 2 (Dads) [Sentence book]
Book of Family [Sentence Book]
I Am Kind [Sentence book]
Healthy Habits [Sentence book]
Global Celebrations [Sentence book]
My Seven Wishes for You [Sentence book]

Haddie & Lulu's Dinosaur Dissertation [Story Book]
Haddie & Lulu and the Color Conundrum [Story Book]
Haddie & Lulu's Worldwide Search [Story book]
Haddie & Lulu's Bash on a Budget [Story book]
Haddie & Lulu and the Bad Grade [Story book]

KOREAN set:
1 Reading Wand
1 Flashcard Sets (Home)
23 Bilingual books (hardcover board books) - same list as Chinese and Spanish except for Maps of the World
Shipping dimensions: 16x12x12 inches
Shipping weight: 36 pounds
This set contains 20 small (8x8 inch) and 4 large (10x10 inch) format books.
FREE Ground Shipping on all US orders
The Kids Love It
My kids love the Everything Set. I should have bought two wands because they are now fighting over the wand! They love the books so much they sleep with it at night.
We Love These Books
We have been learning Korean for close to 2 years now. However, with no native speaker in the home, I am always looking for ways to incorporate the language from different angles (and have them hear native speaking). I had my eye on these for months, and have not been disappointed. Immediately, both my kids took to them, repeating the words and phrases. It's a great way for them to feel like they are getting some 'tech time', but with no screens. They also pick them up randomly throughout the day, which is awesome. We got two wands so they could each read different books at the same time.
I wouldn't buy these for adults, but, as an adult-learner, I appreciate having them in the house, as they're even a bit useful for me!
Kids love it!
We wish we bought these sooner! Kids love them. We leave some out in the playroom and take some on car rides as well. Highly recommend!
I wish I had this when I was growing up
Love the books, so does my daughter. Simple to use. It's almost like a game disguised as learning and reading. If you're on the fence of buying it, do it. I feel it's well worth the money. I'm not fluent in Korean (husbands side is) so I'm learning too!
Amazing set of bilingual books
I couldn't be happier with this lovely set of bilingual books. Amazing quality, great content, and adorable illustrations, and my 4 years old loves them. They were delivered pretty quickly with a sweet handwritten note. I also ordered a French set for my nephews and a Spanish one for a friend whose kids are starting bilingual school: they make wonderful gifts for kids learning a new language, and are especially helpful when their parents aren't fluent in it!
Easy to use
So simple... just tap!
Simply turn on your wand and tap - anywhere, on any page, in any of our books - to hear words, phrases and sounds.
So much content
60-300 clips per book
Every inch is tappable - not just text! Tap images and white space for hidden audio - from vocabulary to practical phrases to musical tunes.
Free resources
Printables for every title
Our Resources page supports your language learning journey with practical tips from families and educators and a wide selection of free printable activities.