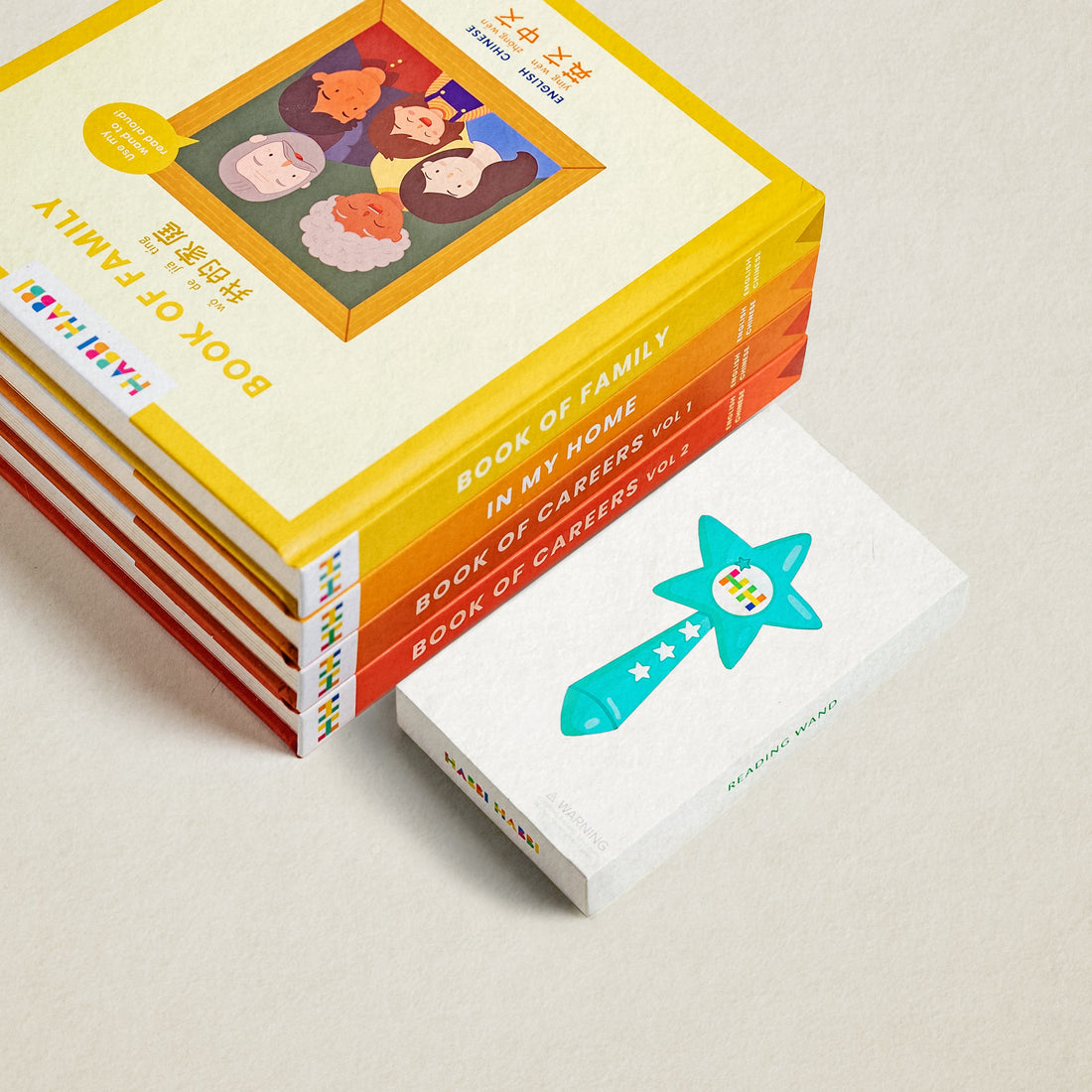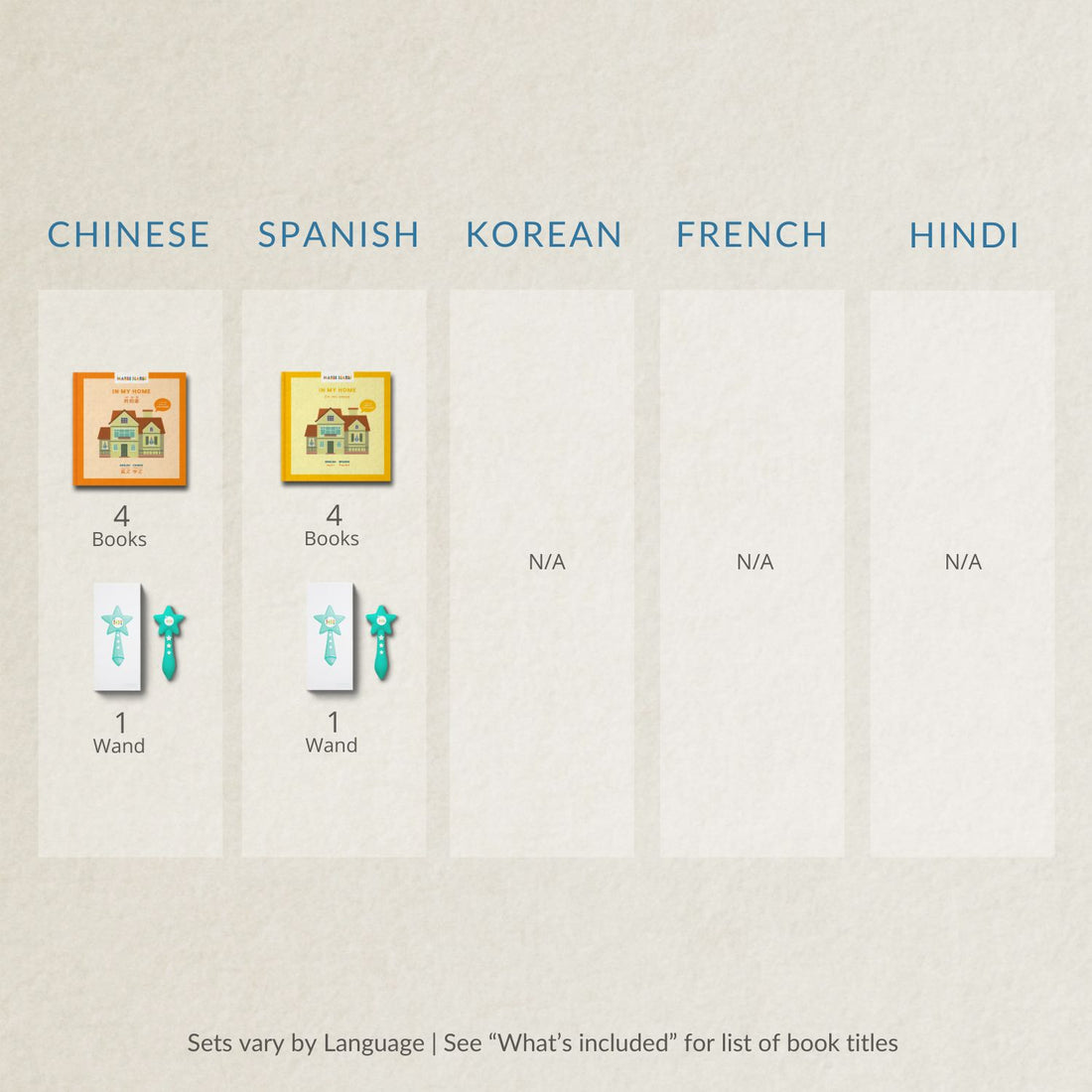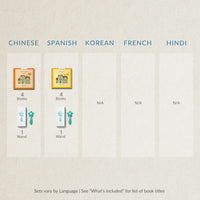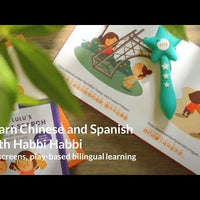 Home & Family Set (Wand + 4 Books)
$100.00
Bundle Price

• Save
Please check your language choice before checkout.
We love the theme of this set. Give your little ones the language to talk about the people in their family, the rooms and objects in their home, and what Mommy or Daddy does at work! Read honest, unsolicited reviews here.  
Chinese is Mandarin, Simplified with pinyin
Note: This set may include books you already have, if you purchased a set before Oct 2020. Please check the titles in description below to confirm what is included. 
1 Reading Wand
4 Bilingual books (large format, hardcover board books)
Chinese and Spanish sets have the same books

In My Home [Word book]
Book of Family [Sentence book]
Book of Careers, vol 1 (Moms) [Sentence book]
Book of Careers, vol 2 (Dads) [Sentence book]
Shipping dimensions: 12x12x4 inches
Shipping weight: 8.2 pounds
This set contains large (10x10 inch) format books.
FREE Ground Shipping on all US orders
too advanced
wish we could start with easier words instead of complex phrases. difficult to use for non native speakers / toddlers
Thank you for your feedback! Yes - our Home & Family Set features more of our Sentence Books, which have longer and more involved content. Our Starter Set and Words & Phrases Set - features more introductory content (similar to the In My Home book) that non-native speakers might find more approachable. We have organized our books (roughly) into categories of Word, Phrase, Sentence, Story Books, and you may be interested in the first 2 categories (Word, Phrase Books). We hope that helps, and please do feel free to reach out if you have any further questions or if we can be of help!
Nice quality, would like richer content
The books are really beautiful as lots of folks have said. However, I would've loved richer content. I have the tiptoi books for our son (German) and the pages have many more things to select, much more naturalistic dialogue, and just a lot more to explore. For reference our child is 2 and speaks Chinese very well already but we're trying to keep up the exposure, so maybe it's a slightly different use case than bilingual language learning.
That said I haven't found anything better on the market, but hoping that Habbi Habbi can keep adding more to the collection.
Home & Family Set (Wand + 4 Books)
amazing quality - my son loves it
The colors are absolutely beautiful, and you can tell it's really well made in every aspect. My son is obsessed with it, and I can see why - the materials used are amazing! Couldn't be happier with this purchase!
Home & Family Set (Wand + 4 Books)
Easy to use
So simple... just tap!
Simply turn on your wand and tap - anywhere, on any page, in any of our books - to hear words, phrases and sounds.
So much content
60-300 clips per book
Every inch is tappable - not just text! Tap images and white space for hidden audio - from vocabulary to practical phrases to musical tunes.
Free resources
Printables for every title
Our Resources page supports your language learning journey with practical tips from families and educators and a wide selection of free printable activities.